3 Ways Georgetown University Is Progressing On Our Energy Efficiency Goals
As a part of our commitment to Care For Our Common Home, in 2021 we joined forces with Georgetown Energy Partners and ENGIE North America to enhance our sustainable practices on campus and further our energy efficiency goals.
Specific to our energy consumption, the goals we had set for ourselves are as follows:
Reduce energy-use intensity by 35% by 2031
Mitigate our carbon footprint
While there is still a lot to be done, we have made a fair bit of progress on these goals. Here's a quick snapshot of where we are, and where we're hoping to go.
1) We have replaced over 20,000 light bulbs across campus with energy efficient LEDs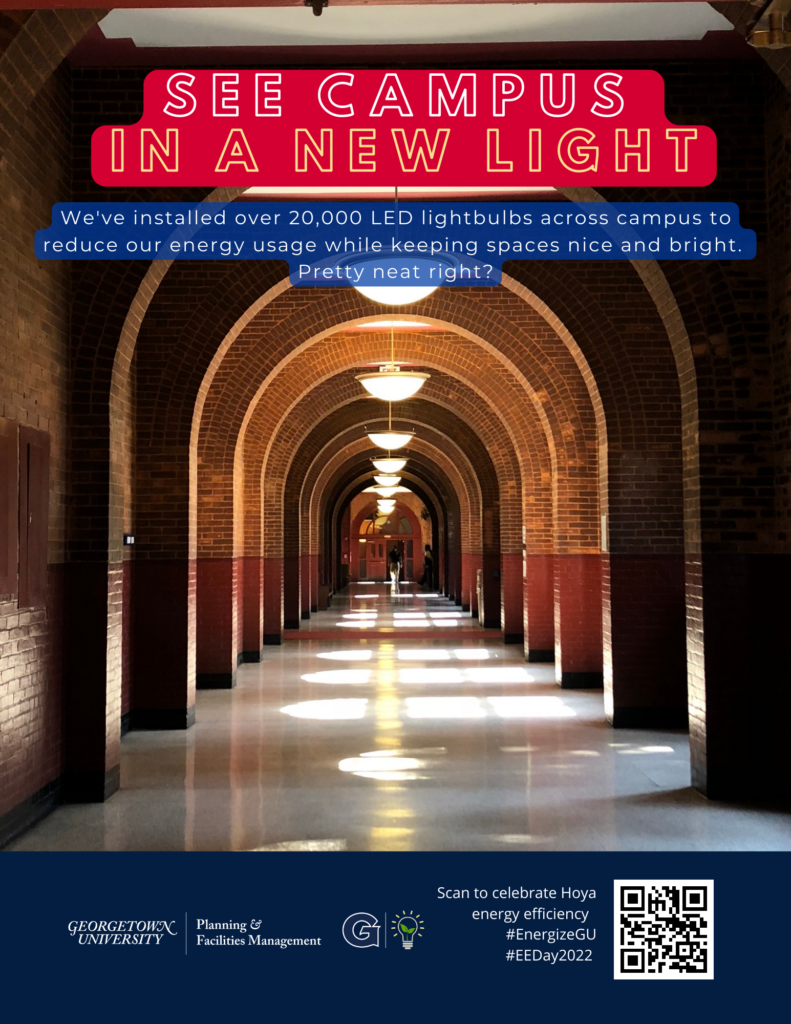 What: In March 2022, a project was launched to upgrade almost every light on the Main campus to energy-efficient light-emitting diodes. We have upgraded over 20,000 of the 70,000 light bulbs being used on the main campus, and new replacements are happening every week.
How: The new LED light bulbs use half the energy of standard fluorescent lights. They also give out about 90% light and 10% (waste) heat, roughly the opposite of traditional incandescent lights that give out 90% (waste) heat and 10% light. This upgrade is estimated to reduce the university's carbon footprint by over 1,700 tonnes of CO2 annually.
What's Next?: By the end of the year, we will have replaced approximately 8,500 more!
2) Our energy savings thus far have effectively taken Healy Hall off-grid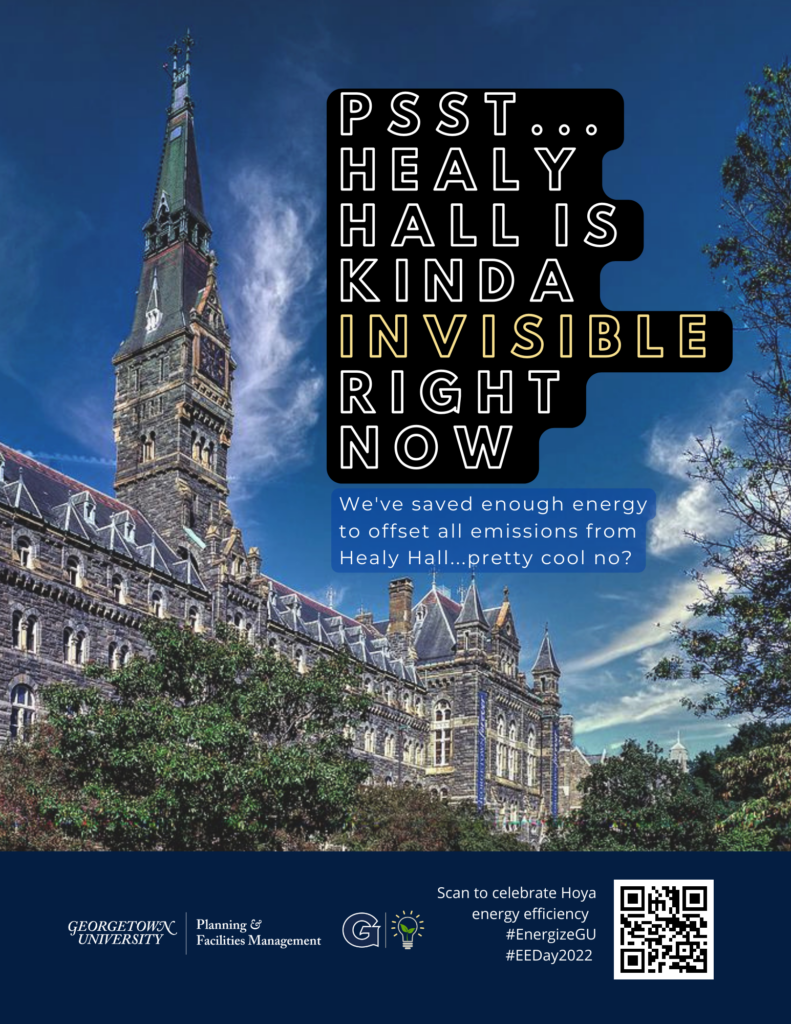 What: Since upgrading over 20,000 light bulbs on the main campus to energy-efficient LEDs, we have observed considerable energy savings.
How: Healy Hall is estimated to use 12,270 MMBTU (MMBTU stands for 1 Million British Thermal units, the amount of heat required to raise the temperature of one pound of water – about 2 cups of tea, by one degree Fahrenheit) per year. By this October, we're projected to save approximately 12,890 MMBTU from all our lighting upgrades, which effectively has offset Healy Hall's emissions for the year.
What's Next?: We're working on replacing all 70,000 light bulbs across the main campus, and that is projected to save 27,800MMBTU!
3) We're installing smart meters across campus to monitor our energy usage in real-time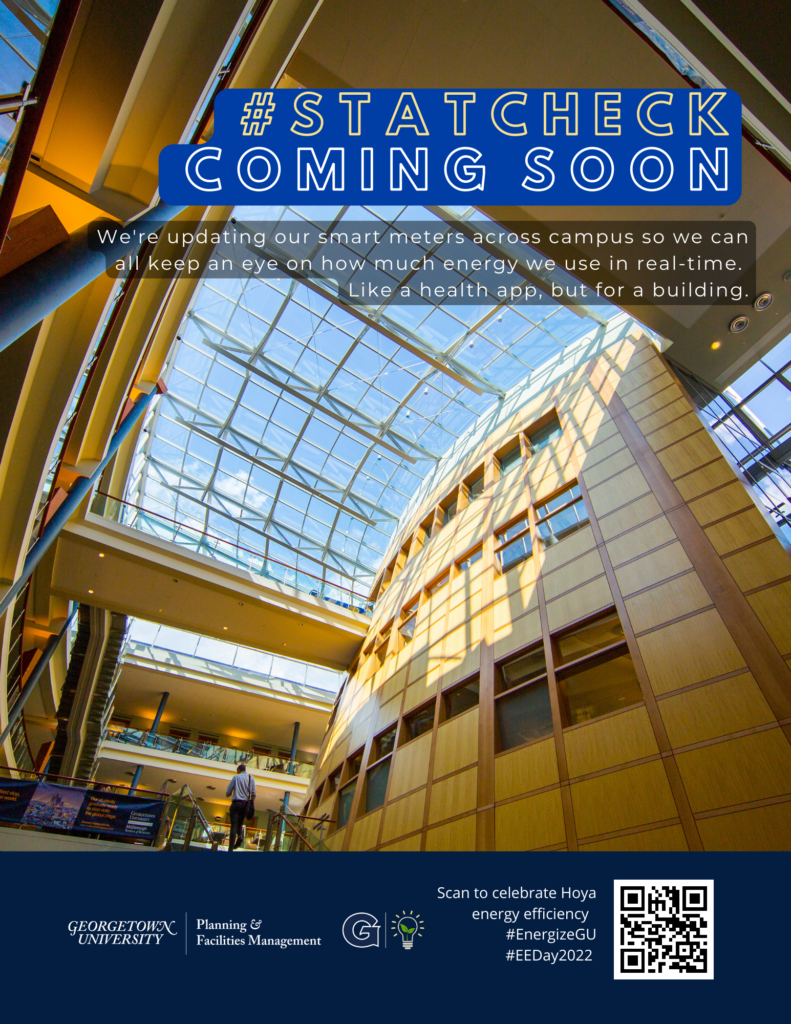 What: Our existing smart-meters are going to be updated to real-time reading smart-meters. These will be installed throughout campus, and we're working on setting them up in locations that are easily accessible, so any Hoya will be able to view our energy and water consumption throughout campus.
How: The project was kicked off in March this year, and is estimated to carry on through to the summer of 2023.
What's Next?: Simultaneously, we're working on a publicly available dashboard connected to the meters, that will help us track Georgetown's progress towards net zero status, and be mindful of our collective carbon footprint. Stay tuned!