Campus Sustainability Information Session
Posted in Announcements
Dear Georgetown University Community,
Friday, April 22nd marked the 46th annual Earth Day, a day in which more than 193 countries from around the globe come together to demonstrate their support for worldwide environmental protection.  Here at Georgetown, we are celebrating Earth Month. As part of the month's events, we held a Campus Sustainability Information Session to provide information about the university's ongoing work to create a more environmentally sustainable campus.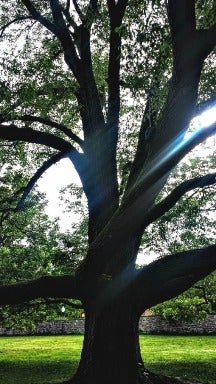 We look at sustainability as an urgent, moral challenge, as outlined in Pope Francis' 2015 encyclical, Laudato Si. At Georgetown, we work to positively impact the people we connect with and our planet as a whole, while maintaining economic prosperity and following our purpose as defined by the university's mission. During the session, we shared our emerging framework within the functional areas of the campus footprint, academics, engagement and investments.  We discussed our ambitious goals for a sustainable campus footprint and shared an update on greenhouse gas reduction efforts and renewable energy initiatives. We were delighted to hear updates from students and staff on sustainability projects and programs they are leading which help realize the university's holistic sustainability mission. 
The transformation of the Village C Patio West is an example of a student/staff collaborative project to advance sustainability at Georgetown. This initiative, now in the vendor-selection process, will turn an underutilized space into a vibrant, green area that benefits our entire community. We also heard updates from the student group GREEN about current and recent student-led sustainability projects, such as their energy efficiency initiatives for campus residence halls. The Center for Social Justice presented on their commitment to sustainability in their operations and how their mission of social justice is tied with environmental justice and sustainability.
We're looking forward to our next campus-wide sustainability initiative, the annual Move Out Drive. Georgetown's end-of-the-school-year contribution to our community and the environment invites students to "re-purpose their packing" when moving out by donating gently used household items to local charities. The Drive launches on May 11th. For more information, please visit our webpage.
We invite you to look over the entire presentation here and are grateful for the contributions of the entire community in helping us create a more sustainable campus.
Sincerely,
Robin Morey
Vice President, Planning & Facilities Management